USB2.0 Interfaced Ultra-high Speed Stand-alone Universal Device Programmer

Discontinued
USB2.0 Interfaced Ultra-high Speed Stand-alone Universal Device Programmer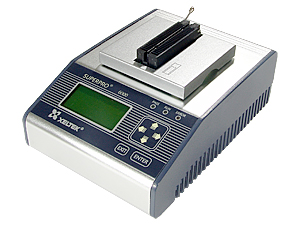 Features:

Features:
Supports 87454 types of devices from 305 IC manufacturers (by 3/15/2013) and keeps growing.
Supports EPROM、Paged EPROM、Parallel and Serial EEPROM、FPGA、PROM、FLASH(NOR & NAND)、BPROM、NVRAM、SPLD、CPLD、EPLD、Firmware HUB、Microcontroller、MCU;Supports devices with Vcc as low as 1.2V. Socket Adaptors available for DIP、SDIP、PLCC、JLCC、PGA、LGA、SOIC、SOJ、SOT、QFP、TQFP、PQFP、VQFP、MQFP、LQFP、TSOP、SOP、TSOPII、PSOP、SSOP、TSSOP、SON、EBGA、FBGA、FTBGA、VFBGA、μBGA、CSP、SCSP、QFN、HVQFN etc.
High programming speed.
Built with 144 universal pin-drivers. Universal adaptors are available for varies packages up to 144 pins. Quick new device support.
Popular NAND FLASH Platform supported including Samsung (XSR1.0/1.6), QualComm, HYNIX(HIFFS), MTK(Solution V1.1), ICERA (v1.0/2.0), ST (7162、7141等), AMLOGIC(IF2/0), REALTEK, PICOCHIP, DataLight ( Flash FX Pro), Marvell(310/303/920/935…), BroadCom, ZTE, Intel (CE4100),UBI, LEADCORE(L1809OG), MSATR etc. Customer-specific NAND solution available.
PC hosted mode and stand-alone dual modes. Under PC hosted mode the programmer is controlled by a PC via USB2.0 (high speed) to program a chip. Under stand-alone mode the programmer is controlled via a 6-KEY keypad and a 20 character by 4 line LCD display. A CF card is used to store the project files.
User can operate multiple units to construct a concurrent multiprogramming system thank for the stand-alone mode.
IC manufacturer approved programming algorithms are used for high reliability.
Testing functions for logic devices.
Advanced and powerful software functions.
Production mode starts chip operation at the moment the chip is inserted in the socket properly.
Project function simplifies processes such as device selection, file loading, device configuration setting, program option, and batch file setting into one touch step.
Password can be set for project files and production volume control
Batch command combines device operations like program, verify, security into a single command at any sequence.
Dynamic buffer makes it possible that each chip is programmed with different data file. Applications including serial number, MAC address etc.
Log file is useful for quality tracking.
Many safety mechanisms are built including self-diagnosis, wrong chip placement detection, poor-pin-contacting detection, ID checking, over-current and over-voltage protection etc.
Windows XP/Vista/Win7/Win8/Win10 compatibility.

Volumn Production Solution:
By operating multiple programmers simultaneously you can use them in high volume production environment.
Clustering of programmers provides for flexible and easy way for volume production.
Optional Compact Flash card is necessary to store user data, and device algorithm in stand-alone operation. For most operation. 256MB size is recommended.


All orders received before noon Beijing Time will begin processing the same business day.




Device Updates:

XELTEK updates software and device algorithm regularly.
View the latestDevice List .
Download the current software version free of charge .
Updates are available by mail at a nominal charge.
XELTEK also adds devices upon customer's request at its option.




Warranty Support:

Programmer is warranted to be free of manufacturing or workmanship defects for one year from the date of purchase.
Online Technical Support is also available 24 hours or you may call us during our business hours through Friday 8:30am to 5:30pm (Beijing Time).






Hardware & Electrical Specifications:



Supported devices: EPROM, Paged EPROM, Parallel and Serial EEPROM, FPGA Configuration PROM, FLASH memory (NOR & NAND)n, BPROM, NVRAM, SPLD, CPLD, EPLD, Firmware HUB, Microcontroller, MCU.
Packages supported: DIP, SDIP, PLCC, JLCC, SOIC, QFP, TQFP, PQFP, VQFP, TSOP, SOP, TSOPII, PSOP, TSSOP, SON, EBGA, FBGA, VFBGA, uBGA, CSP, SCSP, ...
PC interface: USB2.0
Stand-alone Feature: Supported, Compact FLASH Card
Electrical spec. of the AC adapter: AC input 90V to 250V, 50/60Hz, DC output 12V/2A; power:15W
Mechanical parameter: Main unit: Size: 216*148*94 mm Weight: 1.6Kg.
Packing Box: Size 301*252*145 mm Weight: 2.8 Kg.





Accessories:

Main unit with a DIP48 adaptor, AC adaptor, USB2.0 cable, software CD(user manual), register card
Optional accessories: adaptor in varies packages, CF card for stand-alone operation.