USB3.0 Interfaced Ultra-high Speed Stand-alone Universal Device Programmer

USB3.0 Interfaced Ultra-high Speed Stand-alone Universal Device Programmer
Usb3 Extreme Highspeed 8chips Superpro X108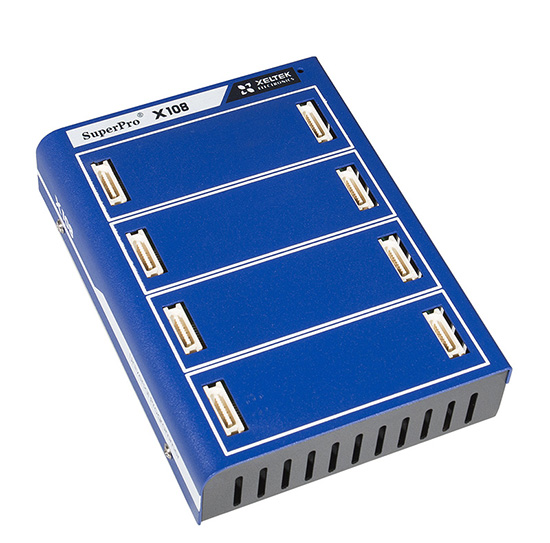 Features:

Until now,Support 112 IC manufacturer, 3096 pcs devices and keeps growing.


Features

Speed much higher than SuperPro/7500 for eMMC, NAND FLASH etc.

Device

Capacity

SP7500

P+Vtime(S)

SP/X1

P+V time(S)

Remarks

KLM8G1GEND

1GB

50

38

eMMC

K9F1G08U0C

1Gb

50

30

NAND FLASH

MX35LF1GE4AB

1Gb

60

32

SPI NOR

MX25L12835E

128Mb

45

38

SPI FLASH



Up to 8 eMMC, NOR/NAND FLASH,Serial EEPROM/FLASH etc. can be programmed simultaneously. Engineering and production programmers in one unit.
Supports devices no less than SuperPro/7500 in the near future. Devices include EPROM、Paged EPROM、Parallel and Serial EEPROM、FPGA、PROM、FLASH(NOR & NAND)、BPROM、NVRAM、SPLD、CPLD、EPLD、Firmware HUB、Microcontroller、MCU;Supports devices with Vcc as low as 1.2V. Socket Adaptors available for DIP、SDIP、PLCC、JLCC、PGA、LGA、SOIC、SOJ、SOT、QFP、TQFP、PQFP、VQFP、MQFP、LQFP、TSOP、SOP、TSOPII、PSOP、SSOP、TSSOP、SON、EBGA、FBGA、FTBGA、VFBGA、μBGA、CSP、SCSP、QFN、HVQFN etc.
Popular NAND FLASH Platform supported including Samsung (XSR1.0/1.6), QualComm, HYNIX(HIFFS), MTK(Solution V1.1), ICERA (v1.0/2.0), ST (7162、7141 etc.), AMLOGIC(IF2/0), REALTEK, PICOCHIP, DataLight (Flash FX Pro), Marvell(310/303/920/935…), BroadCom, ZTE, Intel (CE4100),UBI, LEADCORE(L1809OG), MSATR etc. Customer-specific NAND solution available.
Built with 48 universal and 96 high speed pin-drivers.
Tenth generation pin-driver technology provides better signal, wider voltage range and higher bandwidth. Supports devices with Vcc as low as 1.2V.
Many safety mechanisms are built including self-calibration, self-diagnosis, wrong chip placement detection, poor-pin-contacting detection, ID checking, over-current and over-voltage protection etc.
Connected to PC via USB3.0;
IC manufacturer approved programming algorithms are used for high reliability.
Advanced and powerful software functions:




Production mode starts chip operation at the moment the chip is inserted in the socket properly.
Project function simplifies processes such as device.
selection, file load, device configuration setting, program option, and batch file setting into one touch step. Barcode management automatically load project files to avoid manual mistakes.
Password can be set for project files and production volume control.
Batch command combines device operations like program, verify,security into a single command at any sequence.
Dynamic buffer makes it possible that each chip is programmed with different data file. Applications including serial number, MAC address etc.
Gang expansion Up to 12 programmers can be managed under one GUI as one concurrent production programmer.
JAM/STAPL Player and Direct C supported.
Log file and statistic table for quality tracking.
MES and Industrial 4 friendly Remote communication interface and run-time database available.

Win7/ Win8/Win10 compatibility






Electrical and Mechanical Specification

PC Interface: USB3.0
GND banana jack
Power Supply: AC Adaptor Input AC 100V- 240V; Output: 12V/2A
Main Unit Dimensions:180*132*48 mm Weight: 0.6 Kg
Package: Dimensions: 310 x 250 x 145 mm; Weight: 1.2 Kg
Temperature: :0-40°C。
Humidity: 20%-80%

Items Included

SuperPro /X1 Programmer main unit
AC adapter
Software CD
USB3.0 Cable

Optional Accessaries

Socket adaptors in various packages
All orders received before noon Beijing Time will begin processing the same business day.




Device Updates:

XELTEK updates software and device algorithm regularly.
View the latestDevice List .
Download the current software version free of charge .
Updates are available by mail at a nominal charge.
XELTEK also adds devices upon customer's request at its option.




Warranty Support:

Programmer is warranted to be free of manufacturing or workmanship defects for one year from the date of purchase.
Online Technical Support is also available 24 hours or you may call us during our business hours through Friday 8:30am to 5:30pm (Beijing Time).






Hardware & Electrical Specifications:



Supported devices: EPROM, Paged EPROM, Parallel and Serial EEPROM, FPGA Configuration PROM, FLASH memory (NOR & NAND)n, BPROM, NVRAM, SPLD, CPLD, EPLD, Firmware HUB, Microcontroller, MCU.
Packages supported: DIP, SDIP, PLCC, JLCC, SOIC, QFP, TQFP, PQFP, VQFP, TSOP, SOP, TSOPII, PSOP, TSSOP, SON, EBGA, FBGA, VFBGA, uBGA, CSP, SCSP, ...
PC interface: USB3.0
Stand-alone Feature: None
Electrical spec. of the AC adapter: AC 100-240V , output 12V/2A; power:15W
Mechanical parameter: Main unit: Size: 180 x132 x 48 mm Weight: 0.6Kg.
Packing Box: Size 310 x 250 x 145 mm Weight: 1.2 Kg.





Accessories:

Main unit, AC adaptor, USB3.0 cable, software CD (user manual), register card
Optional accessories: adaptor in varies packages,.